Hello dear readers! It's been a while since I've had the time to participate in a Lolita Blog Carnival theme, but as a literary sort of gal I feel obliged to take this one on. My reading list is pretty specific to those who enjoy spooky kind of stories. So without further ado....
Five Books Every Gothic Lolita Should Read
Wuthering Heights by Emily Bronte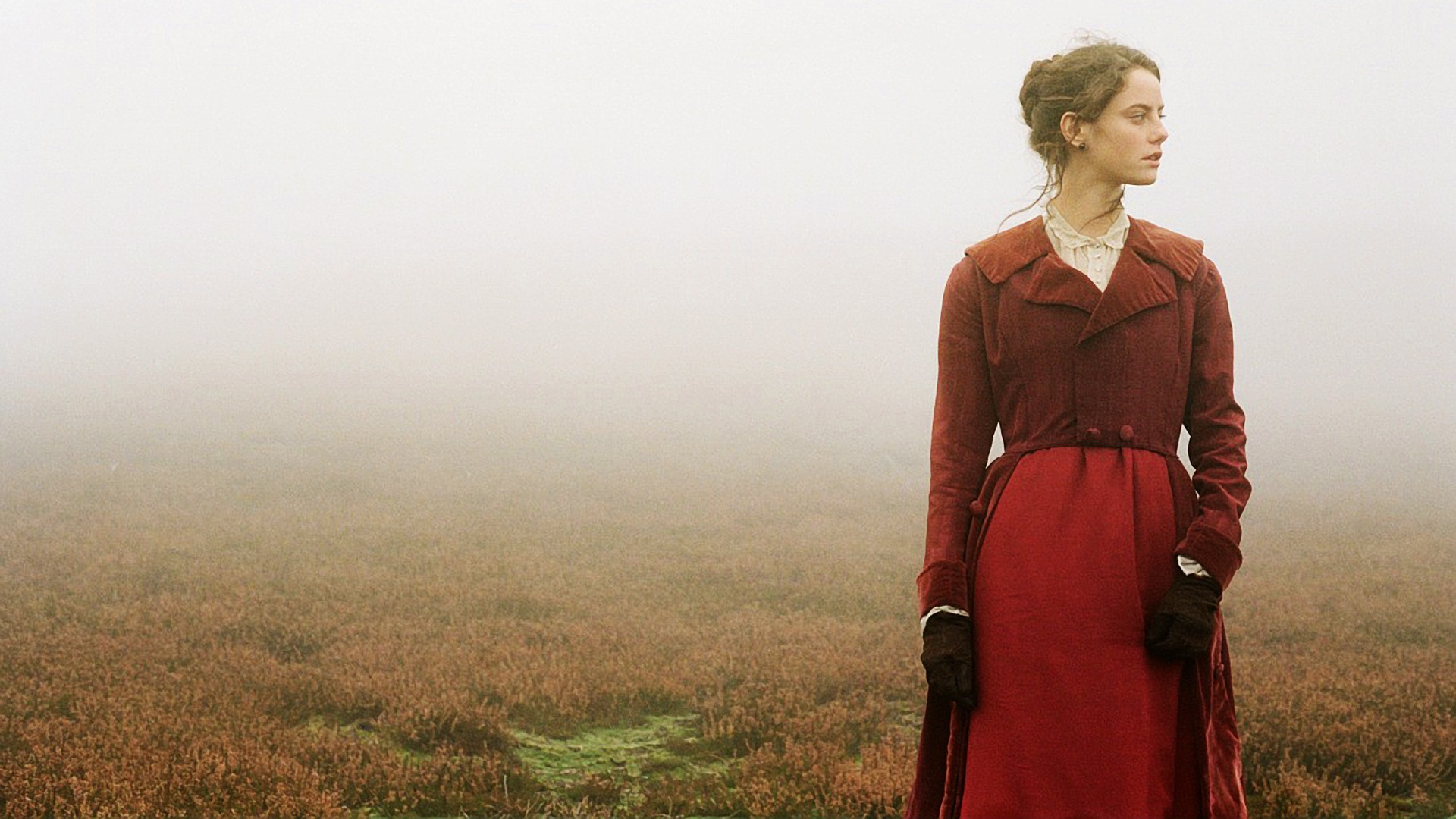 Image from the 2011 film version of Wuthering Heights
Wuthering Heights is the quintesential gothic romance, full of wandering in misty moores, unrequited love, madness, and vivid descriptions of soot-blackened Yorkshire kitchens and stone bedchambers. Putting aside its canonnical status in gothic literature, its also one of my favorite novels. Though it may seem heavy, I actually read this book in a night: I just couldn't put it down. If you don't know the story, just give it a quick wiki search and do your homework.
+The Awakening by Kate Chopin
Frank W. Benson - "Artist's Daughters in Dining Room" 1906
The Awakening is a tale of a woman unsatisfied with her position as a wife, mother, and socialite in Victorian Louisiana, and her struggle to find her place as an individual in high-pressure upper-crust Victorian society. During the course of the novel, the protagonist boldly leaves her family and attempts to forge a life for herself, but faces the overwhelming adversity of society at large. Kate Chopin writes beautifully and The Awakening is a literary gem for this reason alone, but I feel this novel is of the utmost importance to modern women, and to lolita and neo-romantic readers because it reminds us never to sacrifice our personhood for what society believes is the "right" way to live. We are reminded how far women have come, and how far we have yet to go. It also nudges us a little to not romanticize Victoriana toooo much ;).
+A Good Man is Hard to Find short story anthology by Flannery O'Conner
Flannery O'Connor's desk and typewriter in her bedroom at her farm near Midgeville, Georgia.
Photo courtesy of New York Times.
Flannery O'Connor is probably my favorite writer of all time. Unfortunately, this queen of the Southern Gothic passed at a young age, and her body of work is quite slim as a result. None the less, she produced one of the best short story anthologies of American literature. A Good Man is Hard to Find is full of the grotesqueries hidden beneath the mundane American existence, and features stories about many deliciously gothic bits such as serial killers, bible salesmen, spinsters, and wandering hobos. Flannery O'Conner wrote during the 50's-60's, so there are all kinds of kitschy rural mid-century details if you're into that sort of thing.
+House on Haunted Hill by Shirley Jackson
Shirley Jackson is another big name in American Gothic literature. Whereas Flannery O'Connor's work focuses more on absurd realities, Jackson's writing often has more of a supernatural or dystopic slant. Many of her stories are popular titles in this kind of genre, and I know that her novel We Have Always Lived in the Castle is a perrenial hit with the Tumblr/indieblogger crowd (I'm ashamed to admit that I haven't read it yet!), but I have chosen House on Haunted Hill for this list because it really is the essential American ghost story, and who doesn't love a good ghost story? Like pretty much every other story on this list, House on Haunted Hill also deals a lot with a woman's perspective, and her status in society. Also the movie is badass (the Vincent Price version, not the remake).
+A Great and Terrible Beauty (and sequels) by Libba Bray
I know the cover makes it look like a cheesy romance novel. I promise you, it is not. The picture on the left is actress Romola Garai, the choice casting by a fan of one of the characters in the book, Felicity Worthington. I agree!
Unlike the rest of the novels on my list, A Great and Terrible Beauty is a contemporary novel, written by YA author Libba Bray. The story is set in a mysterious girls' school in Victorian England. Although at its core, this book is a fantasy novel, it is so well researched and well written that it is actually quite immersive and feels very historic. The fantasy/adventure elements make this book fun to read, while the period detail makes one want to don her finest bonnets and go on some sort of gas-lit adventure.
I love each and every one of these books dearly! Maybe some of them are not really explicitly lolita, but each has a mood or theme that would appeal to most classic and gothic lolitas, as well as others interested in 19th century and 20th century history and life.
Check out these blogs that participated in this week's theme: