Okay, I know I already participate in the
Lolita Blog Carnival
, but this challenge the
Lolita 52
, popularized by Caro on her blog FYeahLolita, is more conducive to fighting random writer's block. Whereas the Lolita Blog Carnival has weekly group deadlines (that some of us, cough cough, abide by with varying strictness ;P), one can participate in whenever she feels so moved.
If you'd like to participate, or want to learn more about the prompts, please refer to
Caro's post on the Lolita 52 prompt challenge
. Without further ado, I bring to you:
Five pieces every lolita (or dark romantic) should own..... Regardless of style
1. Bloomers
Pic from tumblr.... Sorry, I couldn't find the source!
I often hear beginning lolitas asking around the communities if bloomers are actually necessary for a full lolita coordinate, and my answer is
always
YES! Not only do bloomers provide modesty (because yes, ladies, we
can
see under those skirts when you lean over) and protection from itchy petticoats, they are also incredibly adorable and add a touch of luxury to each outfit. They are also incredibly comfy if you find a pair that fits right, and come in so many different styles, that they can add anything from touches of antiquity, to just the right amount of sexy to any coordinate. I wear my bloomers all the time: around the house, as pajamas, by themselves and under tunics for a casual kind of dolly-look, with a corset, harlequin tights and a ruff for a marionette costume, I even wore bloomers to a rave party once. I recommend owning several pairs in varying styles and lengths to add to your coordinates, whether it be extra-fancy antique ones that peep out beneath your skirts, or a pair of Star Wars printed short ones for secret nerdiness.
2. Basic mid-height pumps in your colors
Obviously, my colors are black, but I've owned pink pumps for sweet outfits, red for more retro looks, and others. Whereas tea-party shoes and other popular lolita footwear can make some of us look a little dumpy, a nice heel always flatters the leg and turns a woman into a lady! Honestly, you can't go wrong with these babies. Pay attention to heel height and toe shape when selecting your pump: Higher heels will elongate your legs, so a mid-height or vintage heel is best for lolita to get that elegant but demure look. Stilettos in general look too modern for a basic lolita shoe, I recommend a more substantial heel both for balance and comfort. Round toes are more suited to sweet lolita, whereas more pointed toes are better for gothic. A nice, almond-shaped toe is a good compromise that can work for all kinds of looks. A plain pair like this can be spritzed up easily with different kinds of shoe clips to dramatically change your shoe!
*Tip from Lady Salt: Vintage pumps (1940s-1960's) are often more comfortable than their modern-made counterparts. Not only was craftsmanship better then, wearing flats wasn't as much of an option for the fashionable woman in those days. Shoes were made with the intention of being worn and walked in, and have the structure to support those activities.
3. Vintage blouses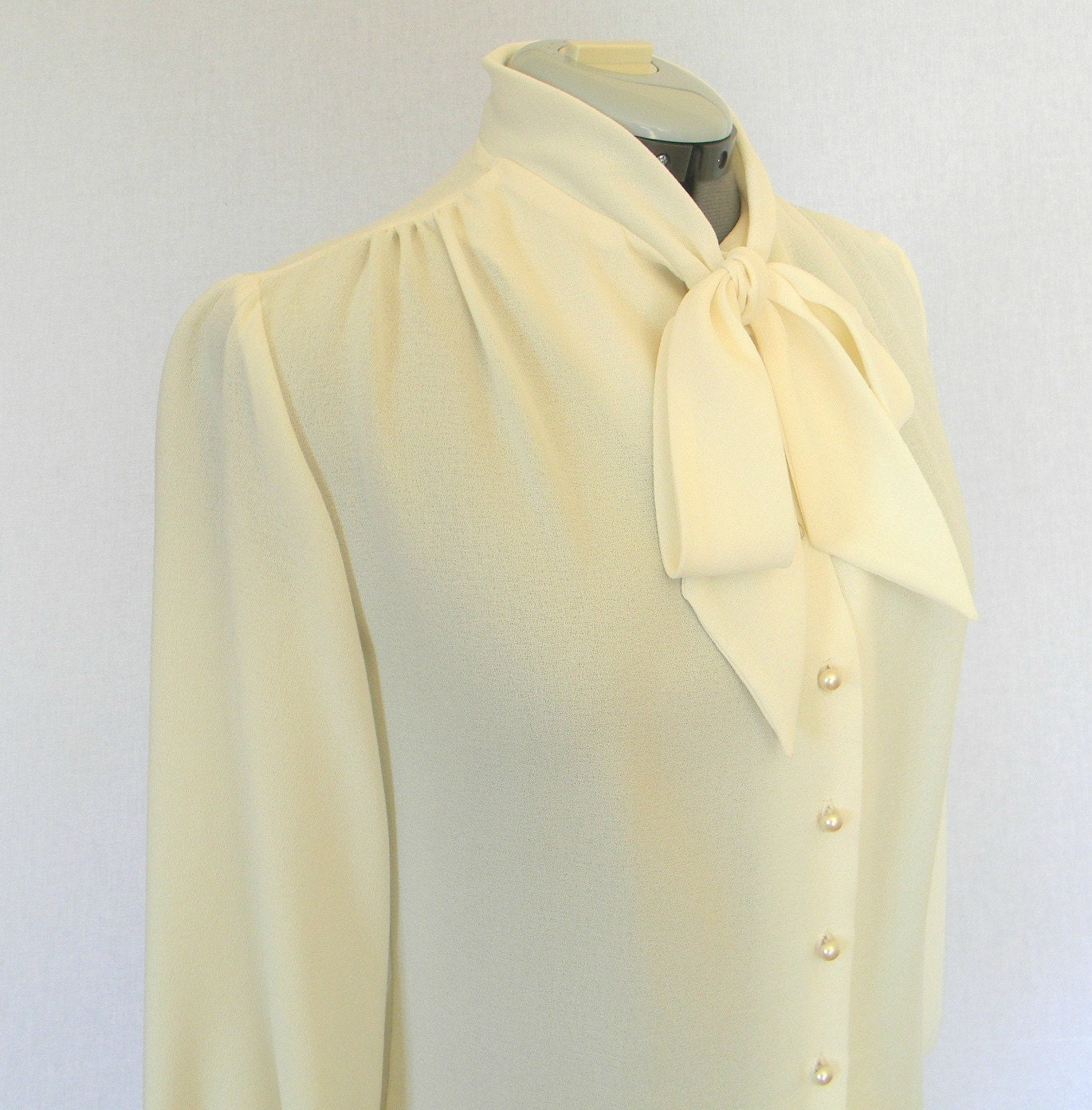 1960's Butter-yellow tie-neck silk blouse found on Etsy
The best way to build a unique but frugal lolita wardrobe is to stock up on vintage blouses! When I first began wearing lolita in around 2005, I was a highschool student in a rural area. Japanese lolita clothing was almost impossible to purchase without a shopping service, and even more impossible with my part-time job's paychecks, so I made do by finding loliable skirts and blouses at my local thrift shops and vintage stores.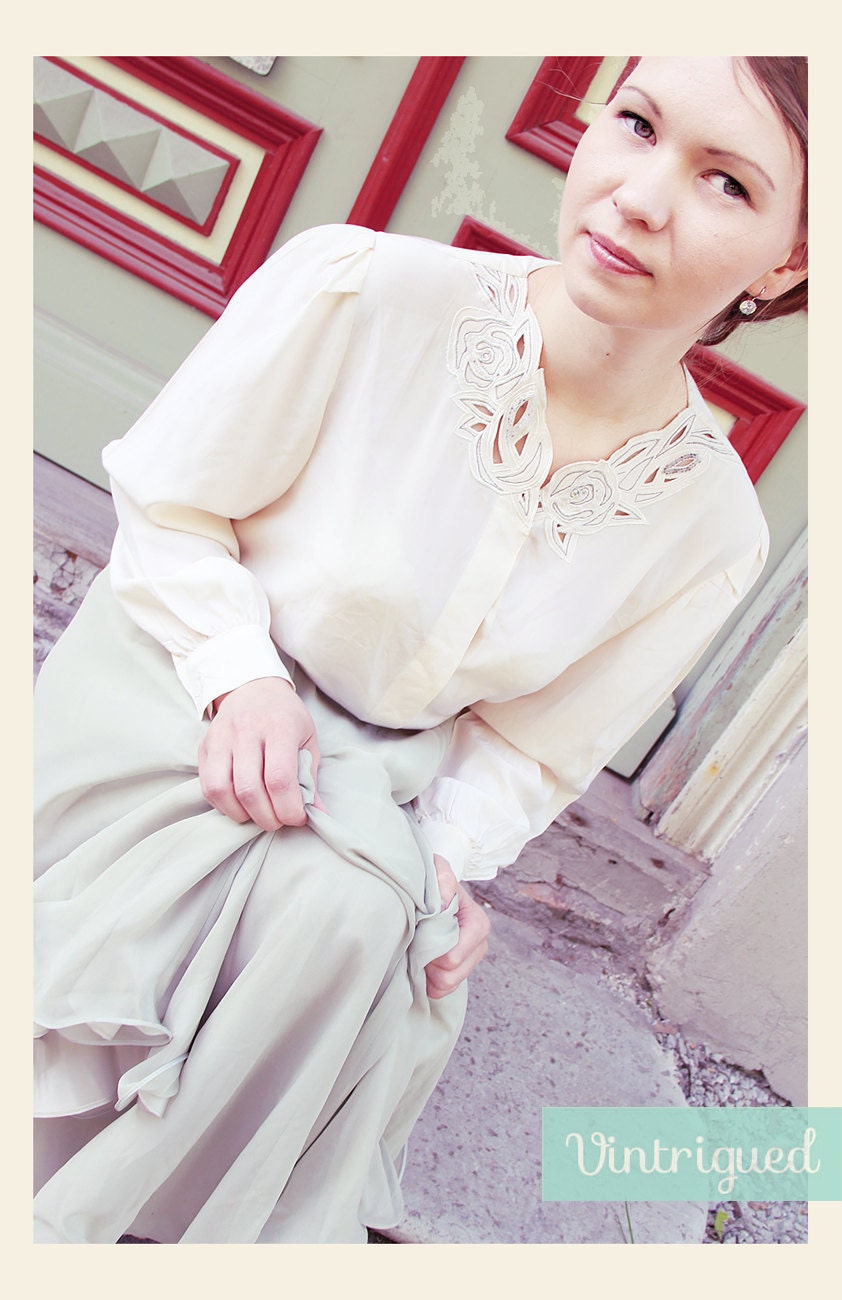 This model is great at showing how lovely these blouses can be!
From Vintrigued Vintage on Etsy
As my wardrobe evolved, I eventually let go of most of my finds, but I still keep a healthy stash of vintage blouses around, both for use in lolita coordinates, and for daily ware. Romantic, lolita-appropriate styles have been fashionable in the West with reliable frequency, so lacey, Victorian-inspired, feminine blouses are pretty easy to find.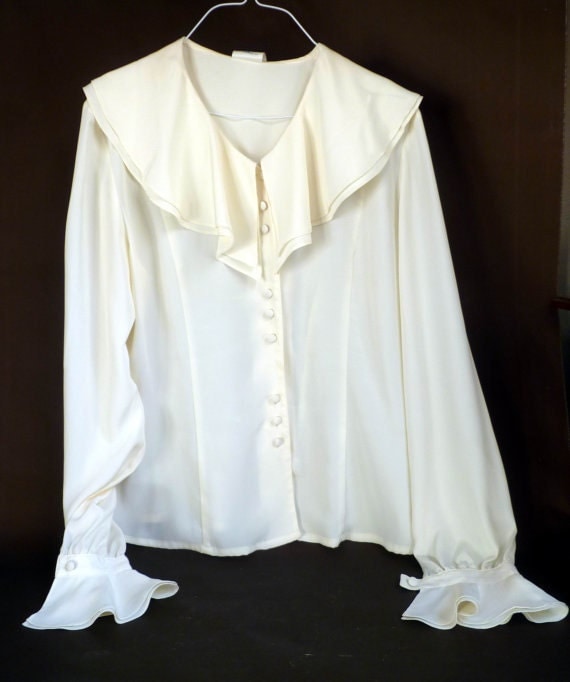 1980's new-romantic "poet" style blouse found on Etsy
White and offwhite are the easiest colors to find, and most suited to classic coordinates, but with enough diligence you can find loliable blouses in any color you wish. Make sure to keep in mind the shape of the blouse when you are planning your coordinate: many of these kinds of blouses aren't very tailored and may bulk up under a jumperskirt. Smock-style shirts are best worn tucked into skirts with some sort of belt. One trick to minimize bulk is to tuck your shirt into your bloomers, or tie a ribbon around your waist, over the blouse to keep it from riding up.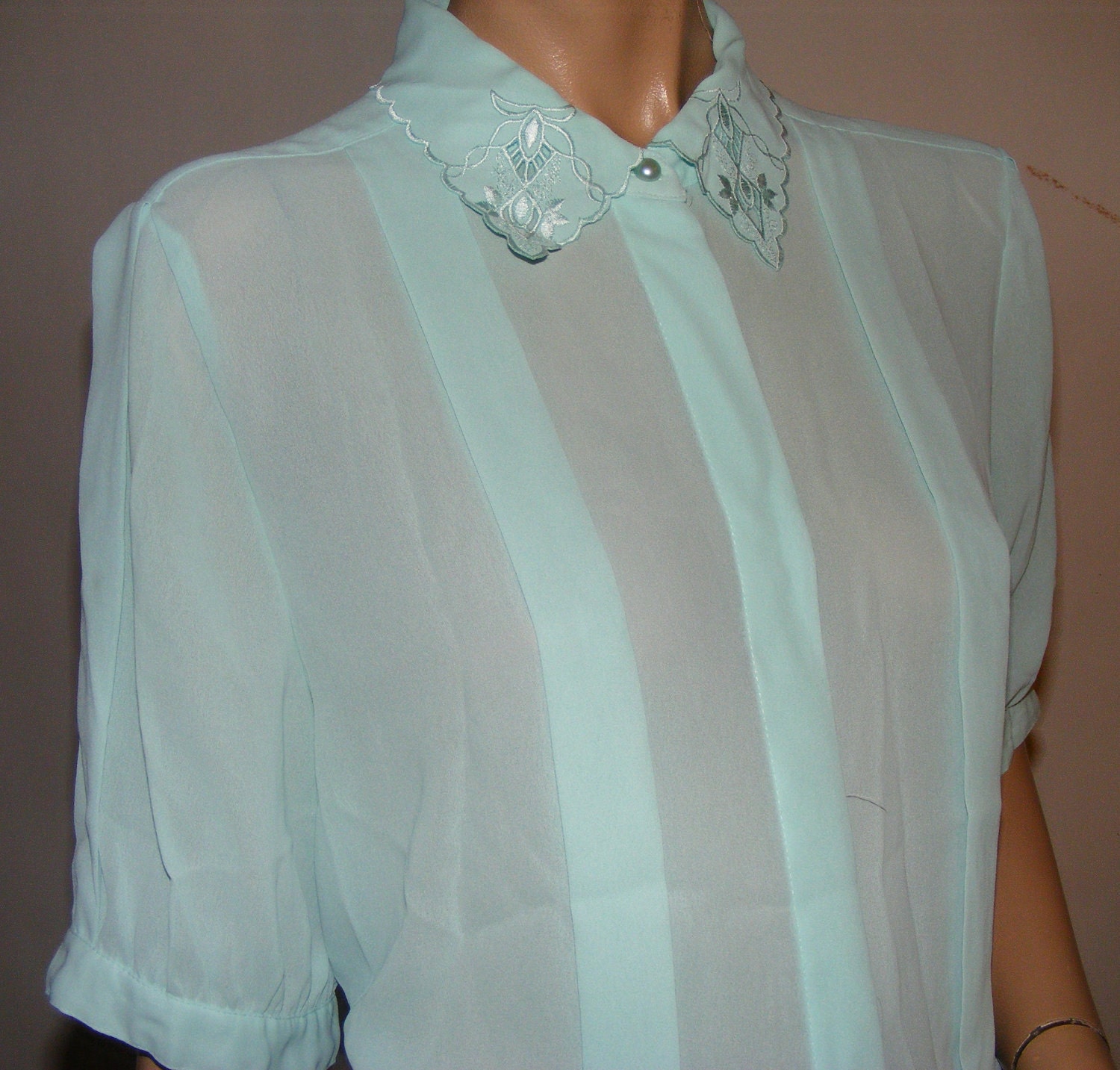 Seafoam green / mint blouse found on Etsy.
Vintage blouses can work with sweet too!
Once you start spotting these blouses in stores, you'll notice them all over the place! My favorite vintage blouses include a beautiful wine-red silk mandarin-collar piece with Chinese embroidery, a delicious lace-trimmed off-white beauty with a flowing shawl collar and balloon sleeves, and a high-necked chiffon number with black and cobalt blue stripes! Really unusual but I love it under black jumperskirts and with AP blue items.
*Tip from Lady Salt: Make sure to always keep quality in mind when shopping for vintage blouses. While there are many beautiful pieces available, there are just as many of terrible quality to be found in the same styles. As with typical lolita clothes, avoid low-quality synthetics, shiny satins, cheap rachel lace, and bad construction. No one will appreciate your vintage gem if it looks like Milanoo!
4. A Basic Blazer Jacket
I love this blazer by Mary Magdalene, but a basic black suit
jacket can work just as well in lolita coordinates.
When most people think of lolita outerwear, blazers aren't usually the first thing that comes to mind. I include them in this list simply because they are incredibly versatile! A black blazer, cut short enough to accomodate lolita dresses, is an easy find at any high-street store. (I got mine at Crossroads Used Fashion for $10.00), and they are incredibly easy to throw over a coordinate if its a bit chilly, but not cold enough for your Angelic Pretty coat complete with plush animal ears. They suit any style, gothic and classic with minimal embellishment, and sweet if you dress them up with your favorite bows, brooches, and pins. Many brands have released printed blazers that match jumperskirts, but a basic blazer (or three) is a staple every lolita should own. They are also a great thing to own if you want to wear your frills to work!
5. A large variety of interesting tights & hosiery
Verum tights by Grimoire
These days, tights are catching on in the lolita community, thanks to the the popularity of
Grimoire's Verum line
but it feels like not so long ago when I had to convince most of my lolita friends that expensive printed socks are not always the answer. As a taller lolita with thicker legs, printed socks tend to look awkward on me, and I much prefir the more elegant lines of tights. Tights can change your look dramatically, and now one can find them in almost any print, style, or color you can imagine. There are even places that will let you design your own and get custom prints! But tights aren't all.... to add a bit of sex appeal to you hosiery, why not try thigh-high stockings with garders?
A generic editorial mori-kei photo of socks, but seriously,
who can hate socks that cozy!!!
But don't think that socks are off limits! Think beyond the box of lolita socks. Maybe give sock garders a try if you're feeling adventurous for an antiquated look. Ankle socks are gaining popularity, and I always love thick, hand-knit, chunky socks for a more rustic, mori-style look. Scrunch down your OTKs for an old-school kogal vibe, or even try layering socks over tights.
5. One really, really over-the-top dress or coordinate
Not lolita I know, but somehow the perfect dream dress illustration.
Illustrator Howard Chandler Christy



The one. Your dream dress. Every lolita needs that one dress in her closet that she maybe never has an occasion to wear out, but just owning it makes her feel happy. Wearing lolita is all about dressing as elegantly and as dreamily as possible, so why not own a completely impractical dress? This goes for my readers who wear other styles as well: everyone deserves a little piece of luxury they can prance around the house in once in a while. For me, I've always wanted to own one of Baby's really sumptuous Rococo-style one pieces, preferably in black shantung, or chiffon, or velvet. I still haven't tracked down the perfect piece yet, but when I finally find it, my closet will be ready!