Hello readers! I've been insanely busy with work this week but I don't want to neglect my blog too much... I think its high time to revive the Things I Love Thursdays feature!
Switchblade Sister Dolls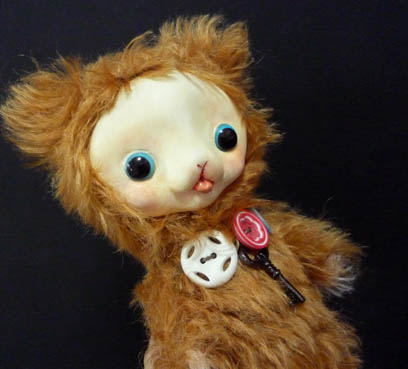 A special thanks to the amazing blog
Drop Dead Kawaii
for introducing me to these dolls! This talented Japanese doll artist makes both soft-body and ball-jointed dolls, but these "face-type" dolls just steal my heart. Stitched into bears, bunnies, kittens, and nonspecific animal-like fluff balls, each creature features a hand painted and uniquely sculpted face that rests somewhere between adorable, creepy, and slightly deranged. I prefir small dolls, so I was delighted to find that these cuties mostly fit in the palm of your hand! Find more at
http://www.switchbladesister.com/
.
Jeffery Campbell Abbey Tabby Pumps
I am obsessed with these shoes. First of all, I am a sucker for shoes in this shape, with bows on the toes. I also love brown, faded, ghostly colors that match with black. I also crazy for cats. Be mine shoes!!!!! I've actually really wanted a pair of shoes in this fabric since JC released the cat tapestry Lita's, but this style is much more to my taste. I won't give you the link because they're almost sold out, and I'm holding out for a pair before they're sold out ;-P.
The Art of Yuko Higuchi
I've been in love with these whimsical, semi-realist etchings for ages on Tumblr, but I only recently discovered the mastermind behind these characters, Japanese artist Yuko Higuchi.
Her personal Tumblr
is chalk full of amazing art, and great photography of her studio, home, her cat (the model for many of her drawings), and her incredible antiques collection! You can also
follow her on Facebook
and get updates about her collaborations and merchandise. I believe she also displays her drawings and installations in art shows fairly frequently if you are in the Tokyo area. I'm planning on making a dress inspired by her work soon!
Easy Vegan Cupcakes by Veggieful
I'm not all-the-way vegan, but my boyfriend and I try to avoid using eggs and dairy in our cooking at home. I've tried several different vegan cupcake and cake recipes, but always have been disappointed by the results. Most vegan cake recipes call for all kinds of weird egg replacers and ingredients I don't always have around, but this recipe was super simple with only about five ingredients that everyone owns, no weird egg replacers, just sugar, oil, and flour! The resulting cakes are everything cupcakes should be: moist, fluffy, and golden brown, without any weird lingering flavors vegan baked goods sometimes have. This recipe makes vanilla cupcakes, but its such a simple base that its easy to experiment with your own flavors. I made lemon-lavender and I plan to try matcha next! I made mine without frosting, so I can't vouch for her frosting recipe, but It looks just as delicious and simple as the cake. I encourage you to try it out, even if you aren't vegan! Find the recipe here at
Veggieful.com
.